B/ 1 rotulador para tejido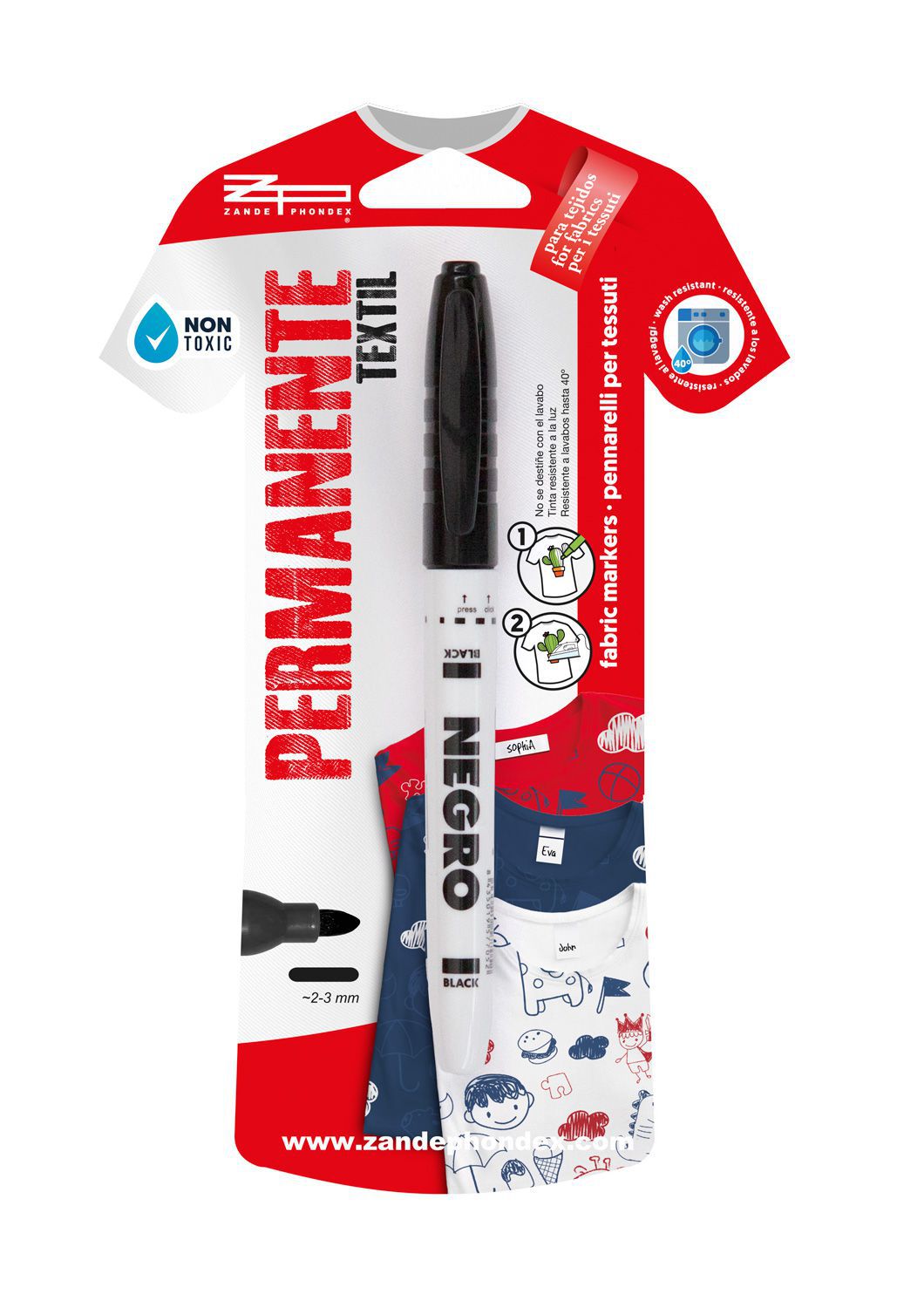 B/ 1 rotulador para tejido
Code: 090201
Unavailable
Few units
Exhausted
There is no stock for more packaging, you can order single units.
The product is sold out you can't order more.
---
---
---
Technical specifications:

[es] Rotuladores permanentes para tejido. Dibuja, garabatea y diseña en la mayoría de los tejidos; versátil, marcador con punta redonda para crear lineas. No se destiñe con el lavabo. Tinta resistente a la luz. Tinta con base de agua pigmentada para decorar para decorar cualquier tipo de tejido. Resistente a lavabos hasta 40º en ciclo normal de maquina. Para fijar mejor el color, aplicar un golpe de plancha en el reverso del dibujo. Forma del cuerpo que facilita su uso. Fácil de tapar/destapar y fácil de llevar.
[en] Permanent fabric markers. Draws, scribbles, and designs on most fabrics; Versatile, round tip marker for creating lines. Does not fade with the sink. Light resistant ink. Pigmented water-based decorating ink to decorate any type of fabric. Resistant to sinks up to 40º in normal machine cycle. To better fix the color, apply an iron stroke on the back of the drawing. Body shape for ease of use. Easy to cover / uncover and easy to carry.
[fr] Marqueurs permanents pour tissus. Dessine, gribouille et dessine sur la plupart des tissus ; Marqueur polyvalent à pointe ronde pour créer des lignes. Ne se décolore pas avec l'évier. Encre résistante à la lumière. Encre de décoration pigmentée à base d'eau pour décorer tout type de tissu. Résistant aux éviers jusqu'à 40º en cycle normal de la machine. Pour mieux fixer la couleur, appliquez un trait de fer au dos du dessin. Forme du corps pour une facilité d'utilisation. Facile à couvrir/découvrir et facile à transporter.
[pt] Marcadores de tecido permanentes. Desenhos, rabiscos e designs na maioria dos tecidos; Marcador versátil e redondo para criar linhas. Não desbota com a pia. Tinta resistente à luz. Tinta decorativa pigmentada à base de água para decorar qualquer tipo de tecido. Resistente a afundamentos de até 40º no ciclo normal da máquina. Para fixar melhor a cor, aplique um traço de ferro no verso do desenho. Forma do corpo para facilidade de uso. Fácil de cobrir / descobrir e fácil de transportar.
[it] Pennarelli permanenti per tessuto. Disegni, scarabocchi e disegni sulla maggior parte dei tessuti; Pennarello versatile a punta tonda per creare linee. Non sbiadisce con il lavandino. Inchiostro resistente alla luce. Inchiostro decorativo pigmentato a base d'acqua per decorare qualsiasi tipo di tessuto. Resistente a lavelli fino a 40º nel normale ciclo macchina. Per fissare meglio il colore, applica un tratto di ferro sul retro del disegno. Forma del corpo per facilità d'uso. Facile da coprire/scoprire e facile da trasportare.
[de] Permanente Stoffmarker. Zeichnet, kritzelt und entwirft auf den meisten Stoffen; Vielseitiger, runder Spitzenmarker zum Erstellen von Linien. Verblasst nicht mit dem Waschbecken. Lichtbeständige Tinte. Pigmentierte Dekorationsfarbe auf Wasserbasis zum Dekorieren jeder Art von Stoff. Beständig gegen Einsinken bis zu 40° im normalen Maschinenzyklus. Um die Farbe besser zu fixieren, tragen Sie einen Eisenstrich auf der Rückseite der Zeichnung auf. Körperform für einfache Handhabung. Leicht zu bedecken / aufzudecken und leicht zu tragen.