B/ 2 gomas + 2 afilalapices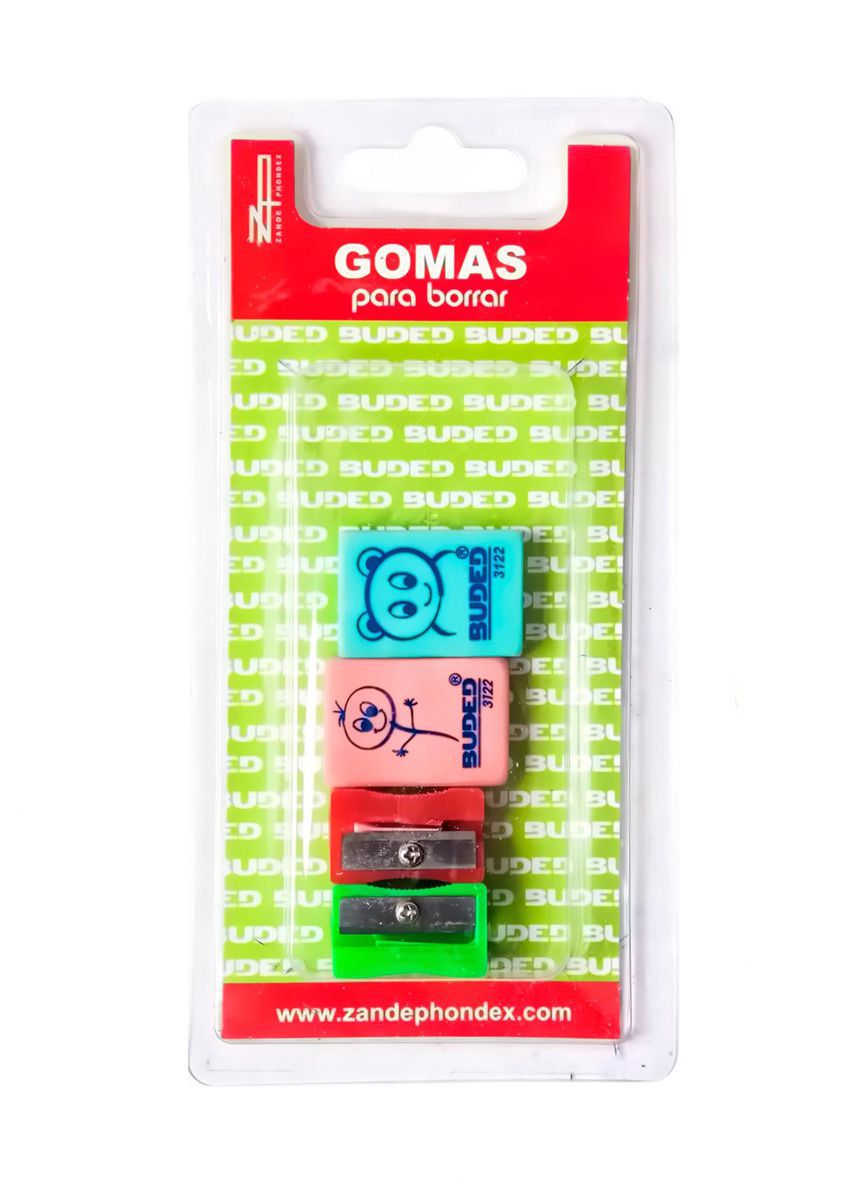 B/ 2 gomas + 2 afilalapices
---
---
---
Technical specifications:

[es] Goma de borrar suave de caucho sintético flexible. Ideal para el borrado de lápices de grafito fácil y rápidamente sobre toda clase de papeles. Colores surtidos. No contiene PVC, sin Ftalatos. Afilalápices para lapiceros de grafito de tamaño estándar idóneos para uso infantil y escolar.
[en] Soft flexible synthetic rubber eraser. Ideal for quickly and easily erasing graphite pencils on all kinds of papers. Assorted colors. Does not contain PVC, without Phthalates. Pencil sharpener for standard size graphite pencils suitable for children and school use.
[fr] Gomme en caoutchouc synthétique souple et souple. Idéal pour effacer rapidement et facilement les crayons graphite sur tous types de papiers. Couleurs assorties. Ne contient pas de PVC, sans phtalates. Taille-crayon pour crayons graphite de taille standard adaptés aux enfants et à l'école.
[pt] Borracha macia e flexível em borracha sintética. Ideal para apagar lápis de grafite de forma rápida e fácil em todos os tipos de papel. Cores sortidas. Não contém PVC, sem ftalatos. Apontador de lápis para lápis de grafite de tamanho padrão, adequado para crianças e uso escolar.
[it] Gomma da cancellare in gomma sintetica morbida e flessibile. Ideale per cancellare rapidamente e facilmente matite di grafite su tutti i tipi di carta. Colori assortiti. Non contiene PVC, senza ftalati. Temperamatite per matite in grafite di dimensioni standard adatto per bambini e uso scolastico.
[de] Weicher, flexibler Radiergummi aus synthetischem Gummi. Ideal zum schnellen und einfachen Löschen von Graphitstiften auf allen Arten von Papieren. Verschiedene Farben. Enthält kein PVC ohne Phthalate. Anspitzer für Graphitstifte in Standardgröße, geeignet für Kinder und Schulen.