B/ 2 pinzas abatibles 50mm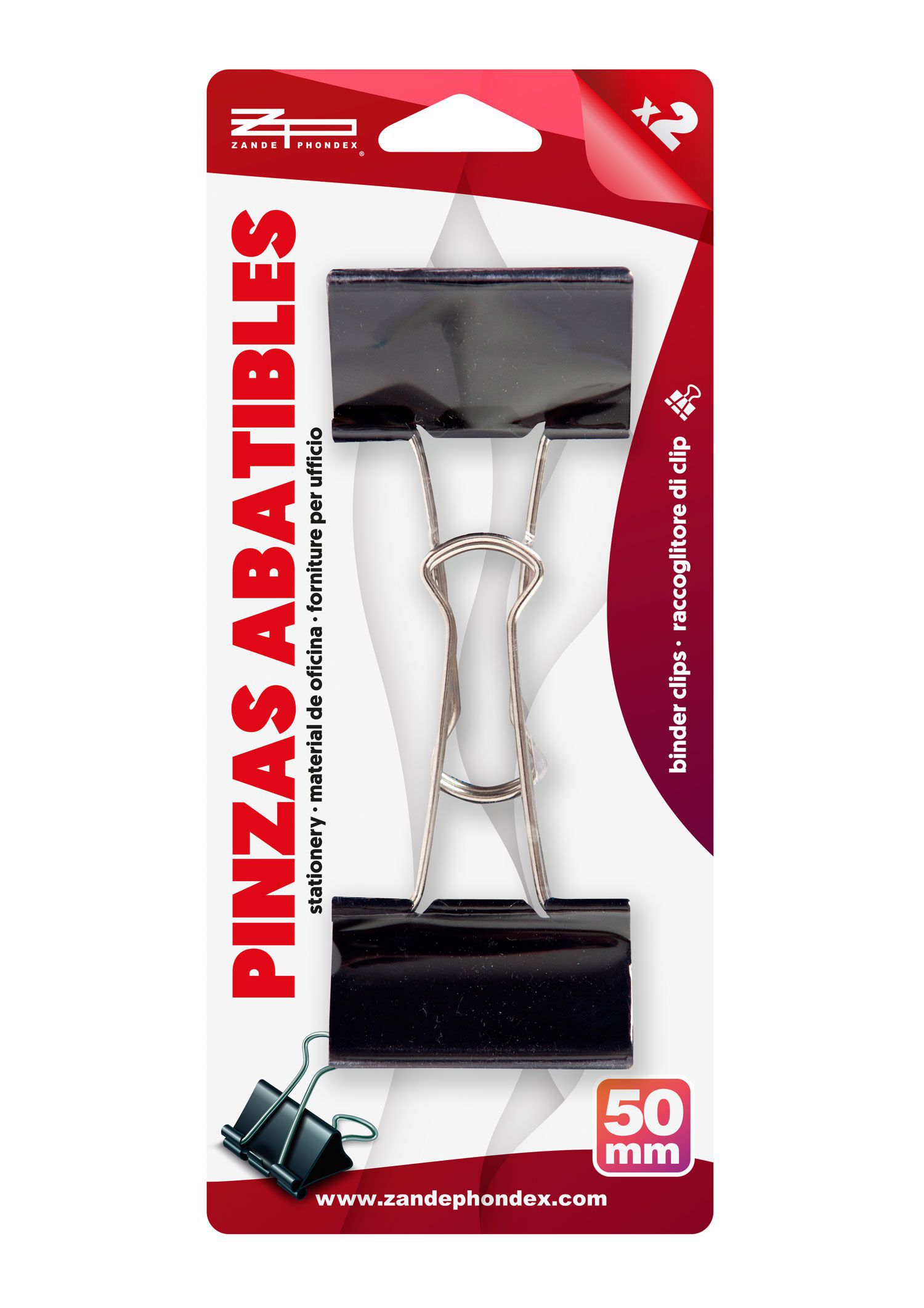 B/ 2 pinzas abatibles 50mm
Code: 040503
Unavailable
Few units
Exhausted
There is no stock for more packaging, you can order single units.
The product is sold out you can't order more.
---
---
---
Technical specifications:

[es] Pack de 2 pinzas en color negro ideales para la sujeción de los papeles que quieras mantener ordenados, como es el caso de apuntes, facturas y demás, evitando que se pierdan o caigan. Material metálico, la superficie pintada no está oxidada, fuerza de sujeción fuerte. Pinzas de pala abatible fácil de abrirlas y cerrarlas sin que dejen marcas, arrugas o agujeros en el papel. Ideal para oficinas, escuelas, familias, festivales, celebraciones, fiestas, etc. Puede almacenar papel, teléfonos fijos, alimentos sellados, etc. Es ampliamente utilizado y muy fácil de usar.
[en] Pack of 2 black clips ideal for holding the papers that you want to keep in order, such as notes, invoices and others, preventing them from being lost or falling. Metal material, the painted surface is not rusty, strong holding force. Flip-up pliers easy to open and close without leaving marks, wrinkles or holes in the paper. Ideal for offices, schools, families, festivals, celebrations, parties, etc. You can store paper, landlines, sealed food, etc. It is widely used and very easy to use.
[fr] Pack de 2 pinces noires idéales pour maintenir en ordre les papiers que vous souhaitez garder en ordre, tels que les notes, factures et autres, en évitant qu'ils ne se perdent ou ne tombent. Matériau métallique, la surface peinte n'est pas rouillée, forte force de maintien. Pince rabattable facile à ouvrir et à fermer sans laisser de marques, plis ou trous dans le papier. Idéal pour les bureaux, les écoles, les familles, les festivals, les célébrations, les fêtes, etc. Vous pouvez stocker du papier, des lignes fixes, de la nourriture scellée, etc. Il est largement utilisé et très facile à utiliser.
[pt] Pacote de 2 clipes pretos ideais para segurar os papéis que você deseja manter em ordem, como notas, faturas e outros, evitando que se percam ou caiam. Material metálico, a superfície pintada não é enferrujada, forte força de retenção. Alicates flip-up fáceis de abrir e fechar sem deixar marcas, rugas ou buracos no papel. Ideal para escritórios, escolas, famílias, festivais, celebrações, festas, etc. Você pode armazenar papel, telefones fixos, alimentos lacrados, etc. É amplamente utilizado e muito fácil de usar.
[it] Confezione da 2 clip nere ideali per tenere in ordine i documenti che si desidera tenere in ordine, come appunti, fatture e altro, evitando che vadano persi o cadano. Materiale metallico, la superficie verniciata non è arrugginita, forte forza di tenuta. Pinze ribaltabili facili da aprire e chiudere senza lasciare segni, pieghe o buchi sulla carta. Ideale per uffici, scuole, famiglie, festival, celebrazioni, feste, ecc. Puoi conservare carta, telefoni fissi, cibo sigillato, ecc. È ampiamente utilizzato e molto facile da usare.
[de] Packung mit 2 schwarzen Clips, ideal, um die Papiere, die Sie aufbewahren möchten, wie Notizen, Rechnungen und andere, in Ordnung zu halten und zu verhindern, dass sie verloren gehen oder herunterfallen. Metallmaterial, die lackierte Oberfläche ist nicht rostig, starke Haltekraft. Klappzange leicht zu öffnen und zu schließen, ohne Spuren, Falten oder Löcher im Papier zu hinterlassen. Ideal für Büros, Schulen, Familien, Feste, Feiern, Partys usw. Sie können Papier.