B/rotul. tiza liquida 10gr. blanca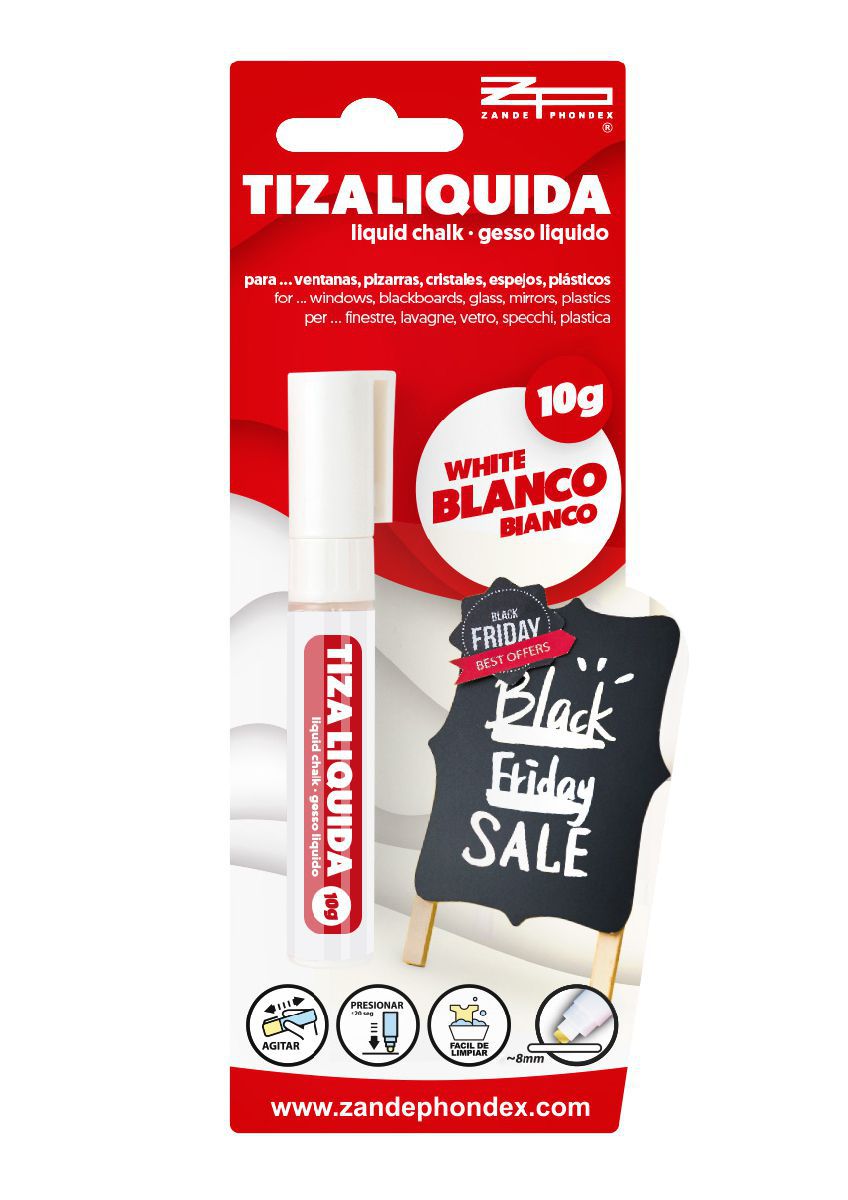 B/rotul. tiza liquida 10gr. blanca
Code: 090655
Unavailable
Few units
Exhausted
There is no stock for more packaging, you can order single units.
The product is sold out you can't order more.
---
---
---
Technical specifications:

[es] Ideal para anuncios en tiendas, decoración en ventanas, resaltar mensajes especiales. Mejor resultado en pizarras brillantes, ventanas, vidrio, espejos, plásticos, metales y otras superficies no porosas. Instrucciones de uso: presione la punta unos segundos hasta que se llene de tinta. Después de su uso, vuelva a tapar y guardar en posición horizontal.
[en] Ideal for advertising in shop, window decoration, highlight special messages. Best result on bright whiteboards, windows, glass, mirrors, plastics, metals, and other non-porous surfaces. Instructions for use: press the tip a few seconds until it is filled with ink. After use, recap and store in a horizontal position.
[fr] Idéal pour la publicité dans la boutique, la décoration de fenêtre, mettez en valeur les messages spéciaux. Meilleur résultat sur les tableaux blancs lumineux, les fenêtres, le verre, les miroirs, les plastiques, les métaux et autres surfaces non poreuses. Mode d'emploi: appuyez sur la pointe quelques secondes jusqu'à ce qu'elle soit remplie d'encre. Après utilisation, récapituler et stocker en position horizontale.
[pt] Ideal para publicidade em lojas, decoração de vitrines, destacar mensagens especiais. Melhor resultado em quadros brancos brilhantes, janelas, vidro, espelhos, plásticos, metais e outras superfícies não porosas. Instruções de uso: pressione a ponta por alguns segundos até que ela esteja cheia de tinta. Após o uso, tampe e guarde na posição horizontal.
[it] Ideale per la pubblicità in negozio, decorazione di finestre, evidenziare messaggi speciali. Il miglior risultato su lavagne luminose, finestre, vetro, specchi, plastica, metalli e altre superfici non porose. Istruzioni per l'uso: premere la punta alcuni secondi fino a quando non si riempie di inchiostro. Dopo l'uso, ricapitolare e conservare in posizione orizzontale.
[de] Ideal für Werbung im Laden, Fensterdekoration, besondere Botschaften hervorheben. Bestes Ergebnis auf hellen Whiteboards, Fenstern, Glas, Spiegeln, Kunststoffen, Metallen und anderen nicht porösen Oberflächen. Gebrauchsanweisung: Drücken Sie einige Sekunden auf die Spitze, bis sie mit Tinte gefüllt ist. Nach Gebrauch wieder zusammenfassen und in horizontaler Position lagern.