Blister 2+1 lapiz corrector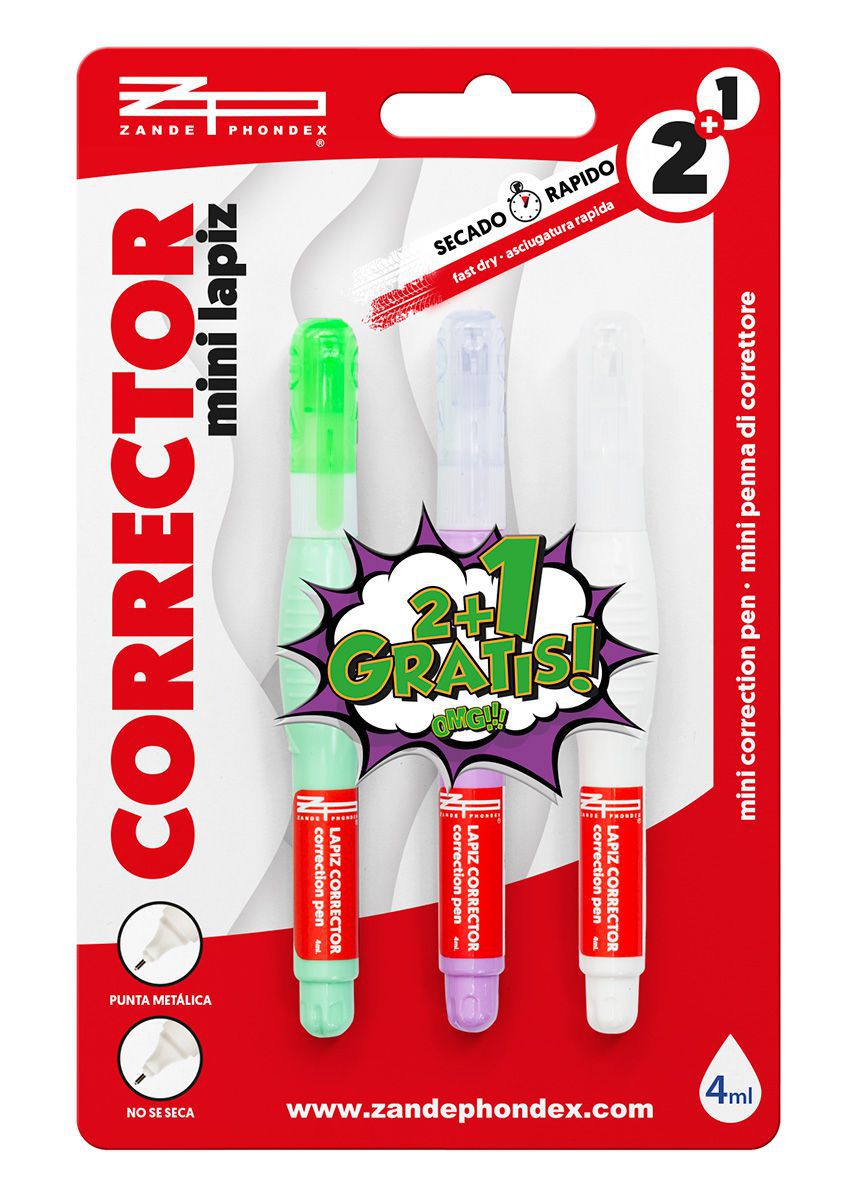 Blister 2+1 lapiz corrector
Code: 078043
Unavailable
Few units
Exhausted
There is no stock for more packaging, you can order single units.
The product is sold out you can't order more.
---
---
---
Technical specifications:

[es] LAPIZ CORRECTOR. Agitar bien con el capuchón puesto. Situar la punta del corrector en la zona a corregir y presionar ligeramente sobre el cuerpo. ATENCIÓN: no ingerir, no inhalar, mantener fuera del alcance de los niños. Inflamable.
[en] CORRECTION PEN. Shake well with the cap on. Place the tip of the corrector in the area to be corrected and press lightly on the body WARNING: do not eat, do not inhale, keep out of reach of children. Flammable.
[fr] STYLO CORRECTEUR. Secouez bien avec le bouchon. Placez la pointe du correcteur dans la zone à corriger et appuyez légèrement sur le corps ATTENTION: ne pas manger, ne pas inhaler, garder hors de portée des enfants. Inflammable
[pt] CANETA DE CORREÇÃO. Agite bem com a tampa colocada. Colocar a ponta da corrector na área a ser corrigida e pressione ligeiramente no corpo. ATENÇÃO: não comer, não inalar, manter fora do alcance das crianças. Inflamável
[it] PENNA DI CORRETTORE. Agitare bene con il tappo. Posizionare la punta del correttore nella zona da correggere e premere leggermente sul corpo ATTENZIONE: non mangiare, non inalare, tenere fuori dalla portata dei bambini. Infiammabile [
[de] KORREKTURSTIFT. Gut schütteln mit der Kappe auf. Setzen Sie die Spitze des Korrektors im Bereich korrigiert, und drücken Sie auf die leichte Schulter auf den Körper. ACHTUNG: nicht essen, nicht einatmen, halten außerhalb der Reichweite von Kindern. Brennbar.