Blister boligrafo borrable azul/negro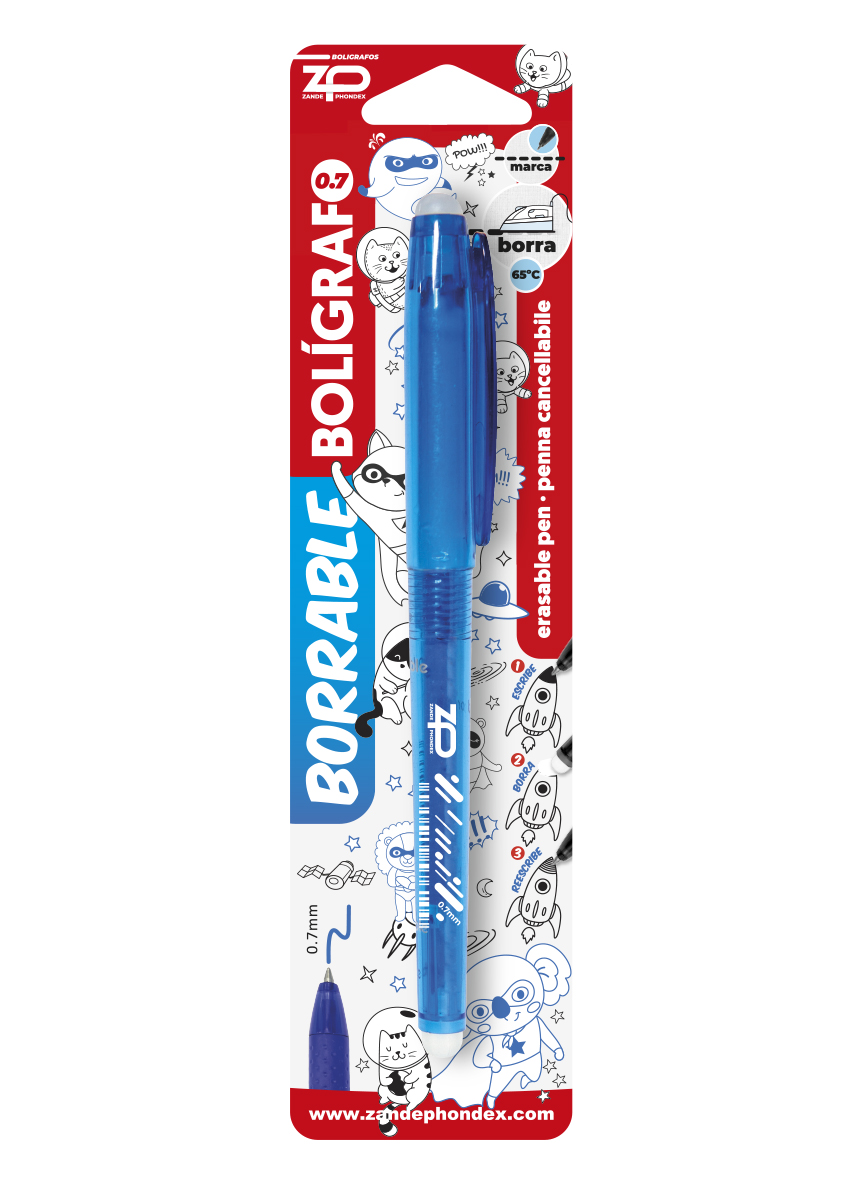 Blister boligrafo borrable azul/negro
Code: 090710
Unavailable
Few units
Exhausted
There is no stock for more packaging, you can order single units.
The product is sold out you can't order more.
---
---
---
Technical specifications:

[es] Bolígrafo con tinta borrable mediante fricción con la goma integrada o mediante planchado. Se puede escribir, borrar y volver a escribir tantas veces como sea necesario. No mancha ni deja restos. Ideal para marcar cualquier tipo de patrones, para patchwork, para bordado...
[en] Ballpoint pen with erasable ink by friction with the integrated rubber or by ironing. It can be written, erased and rewritten as many times as necessary. It does not stain or leave residue. Ideal for marking any type of patterns, for patchwork, for embroidery ...
[fr] Stylo bille à encre effaçable par friction avec le caoutchouc intégré ou par repassage. Il peut être écrit, effacé et réécrit autant de fois que nécessaire. Il ne tache pas et ne laisse aucun résidu. Idéal pour marquer tout type de motifs, pour patchwork, pour broderie ...
[pt] Caneta esferográfica com tinta apagável por fricção com a borracha integrada ou passando a ferro. Pode ser escrito, apagado e reescrito quantas vezes forem necessárias. Não mancha nem deixa resíduos. Ideal para marcar qualquer tipo de padrão, para patchwork, para bordados ...
[it] Penna a sfera con inchiostro cancellabile per attrito con la gomma integrata o da stiro. Può essere scritto, cancellato e riscritto tutte le volte che è necessario. Non macchia e non lascia residui. Ideale per segnare qualsiasi tipo di disegno, per patchwork, per ricamo ...
[de] Kugelschreiber mit löschbarer Tinte durch Reibung mit dem integrierten Gummi oder durch Bügeln. Es kann so oft wie nötig geschrieben, gelöscht und neu geschrieben werden. Es färbt oder hinterlässt keine Rückstände. Ideal zum Markieren von Mustern aller Art, für Patchwork, zum Sticken ...