Bloc notas adhs. 100h. 75x75 colores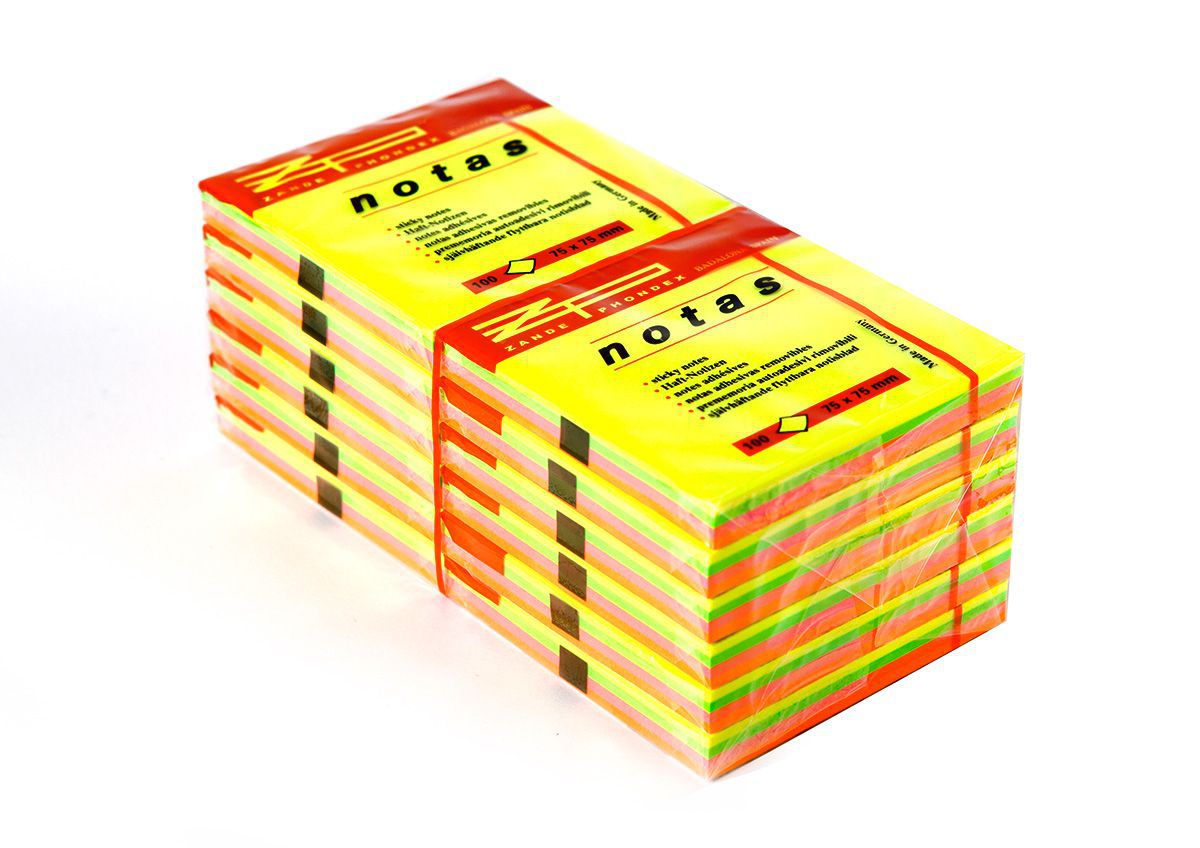 Bloc notas adhs. 100h. 75x75 colores
Code: 037550
Unavailable
Few units
Exhausted
There is no stock for more packaging, you can order single units.
The product is sold out you can't order more.
---
---
---
Technical specifications:

[es] 100 hojas de notas adhesivas de 75 x 75 mm en 4 colores surtidos flúor. 25hojas por color: amarillo flúor, rosa flúor, verde flúor y naranja flúor. Ideales si quieres destacar tus mensajes con colores llamativos y flúorescentes. El adhesivo reposicionable permite pegarlas y despegarlas más de una vez.
[en] 100 sheets of 75 x 75 mm sticky notes in 4 assorted fluorine colors. 25sheets per color: fluorine yellow, fluorine pink, fluorine green and fluorine orange. Ideal if you want to highlight your messages with bright and fluorescent colors. The repositionable adhesive allows them to be glued and detached more than once.
[fr] 100 feuilles de notes autocollantes de 75 x 75 mm en 4 couleurs fluorées assorties. 25 feuilles par couleur: jaune fluo, rose fluo, vert fluo et orange fluo. Idéal si vous souhaitez mettre en valeur vos messages avec des couleurs vives et fluorescentes. L'adhésif repositionnable leur permet d'être collés et détachés plus d'une fois.
[pt] 100 folhas de notas adesivas de 75 x 75 mm em 4 cores de flúor sortidas. 25 folhas por cor: amarelo flúor, rosa flúor, verde flúor e laranja flúor. Ideal se você deseja destacar suas mensagens com cores brilhantes e fluorescentes. O adesivo reposicionável permite que eles sejam colados e destacados mais de uma vez.
[it] 100 fogli di foglietti adesivi 75 x 75 mm in 4 colori assortiti di fluoro. 25 fogli per colore: giallo fluoro, rosa fluoro, verde fluoro e arancio fluoro. Ideale se vuoi mettere in risalto i tuoi messaggi con colori accesi e fluo. L'adesivo riposizionabile permette loro di essere incollati e staccati più di una volta.
[de] 100 Blatt 75 x 75 mm Haftnotizen in 4 verschiedenen Fluorfarben. 25 Blätter pro Farbe: Fluorgelb, Fluorrosa, Fluorgrün und Fluororange. Ideal, wenn Sie Ihre Nachrichten mit hellen und fluoreszierenden Farben hervorheben möchten. Mit dem repositionierbaren Klebstoff können sie mehrmals geklebt und abgelöst werden.