Etiquetas redondas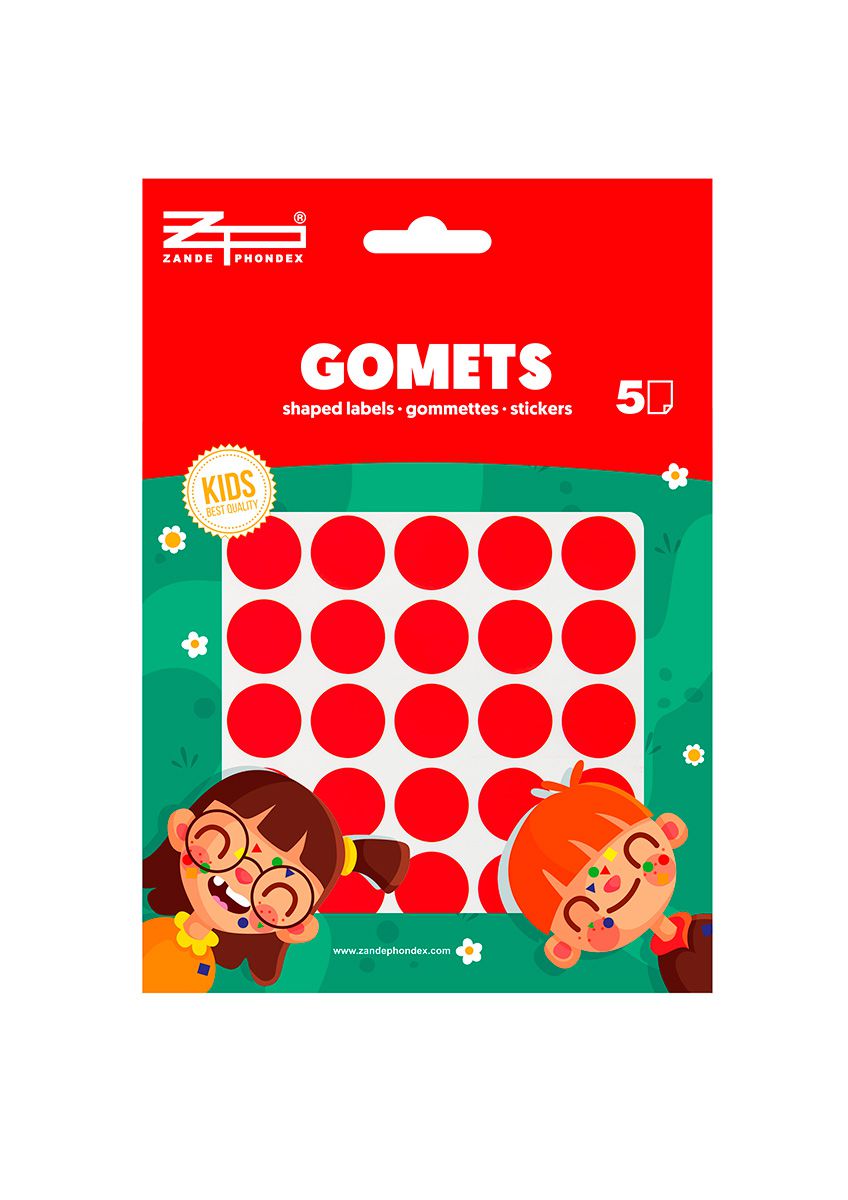 Etiquetas redondas
Code: 037050
Unavailable
Few units
Exhausted
There is no stock for more packaging, you can order single units.
The product is sold out you can't order more.
---
---
---
Technical specifications:

[es] Bolsa de 5 hojas de etiquetas Gomets. Las pegatinas de colores se usan ampliamente en manualidades, artesanía, notas, marca, categorización, organización, planificación, juegos, decoraciones etc.Los gomets ayudan a trabajar varias capacidades y habilidades como el conocimiento de los colores, las formas geométricas y los tamaños; el desarrollo de la lógica y la creatividad en los niños. Las etiquetas son fáciles de pegar en todas superficies como de papel, cartón, plástico, madera, textil, etc. Son perfectos para poner en el calendario o en los objetos para identificar, memorizar y distinguir.
[en] Bag of 5 sheets of Gomets labels. Colored stickers are widely used in arts and crafts, notes, marking, categorizing, organizing, planning, games, decorations etc. Stickers help to work various abilities and skills such as knowledge of colors, geometric shapes and sizes; the development of logic and creativity in children. The labels are easy to stick on all surfaces such as paper, cardboard, plastic, wood, textile, etc. They are perfect to put on the calendar or on objects to identify, memorize and distinguish.
[fr] Sachet de 5 feuilles d'étiquettes Gomets. Les autocollants colorés sont largement utilisés dans les arts et l'artisanat, les notes, le marquage, la catégorisation, l'organisation, la planification, les jeux, les décorations, etc. Les autocollants aident à travailler diverses capacités et compétences telles que la connaissance des couleurs, des formes géométriques et des tailles; le développement de la logique et de la créativité chez les enfants. Les étiquettes sont faciles à coller sur toutes les surfaces telles que le papier, le carton, le plastique, le bois, le textile, etc. Ils sont parfaits pour mettre sur le calendrier ou sur des objets pour identifier, mémoriser et distinguer.
[pt] Saco com 5 folhas de etiquetas Gomets. Os adesivos coloridos são amplamente usados ​​em artes e ofícios, notas, marcação, categorização, organização, planejamento, jogos, decorações etc. Os adesivos ajudam a trabalhar várias habilidades e habilidades, como conhecimento de cores, formas geométricas e tamanhos; o desenvolvimento da lógica e da criatividade nas crianças. As etiquetas são fáceis de colar em todas as superfícies, como papel, papelão, plástico, madeira, tecido, etc. São perfeitos para colocar no calendário ou em objetos para identificar, memorizar e distinguir.
[it] Confezione da 5 fogli di etichette Gomets. Gli adesivi colorati sono ampiamente utilizzati nelle arti e nei mestieri, negli appunti, nella marcatura, nella classificazione, nell'organizzazione, nella pianificazione, nei giochi, nelle decorazioni, ecc. Gli adesivi aiutano a lavorare con varie abilità e abilità come la conoscenza dei colori, delle forme geometriche e delle dimensioni; lo sviluppo della logica e della creatività nei bambini. Le etichette sono facili da attaccare su tutte le superfici come carta, cartone, plastica, legno, tessuto, ecc. Sono perfetti da mettere sul calendario o sugli oggetti per identificare, memorizzare e distinguere.
[de] Beutel mit 5 Blatt Gomets-Etiketten. Farbige Aufkleber werden häufig in Kunsthandwerk, Notizen, Markieren, Kategorisieren, Organisieren, Planen, Spielen, Dekorieren usw. verwendet. Aufkleber helfen dabei, verschiedene Fähigkeiten und Fertigkeiten wie Kenntnisse über Farben, geometrische Formen und Größen zu erlernen. die Entwicklung von Logik und Kreativität bei Kindern. Die Etiketten lassen sich leicht auf alle Oberflächen wie Papier, Pappe, Kunststoff, Holz, Textil usw. kleben. Sie lassen sich perfekt in den Kalender oder auf Objekte einfügen, um sie zu identifizieren, auswendig zu lernen und zu unterscheiden.