3 sobres 229x324 folio colores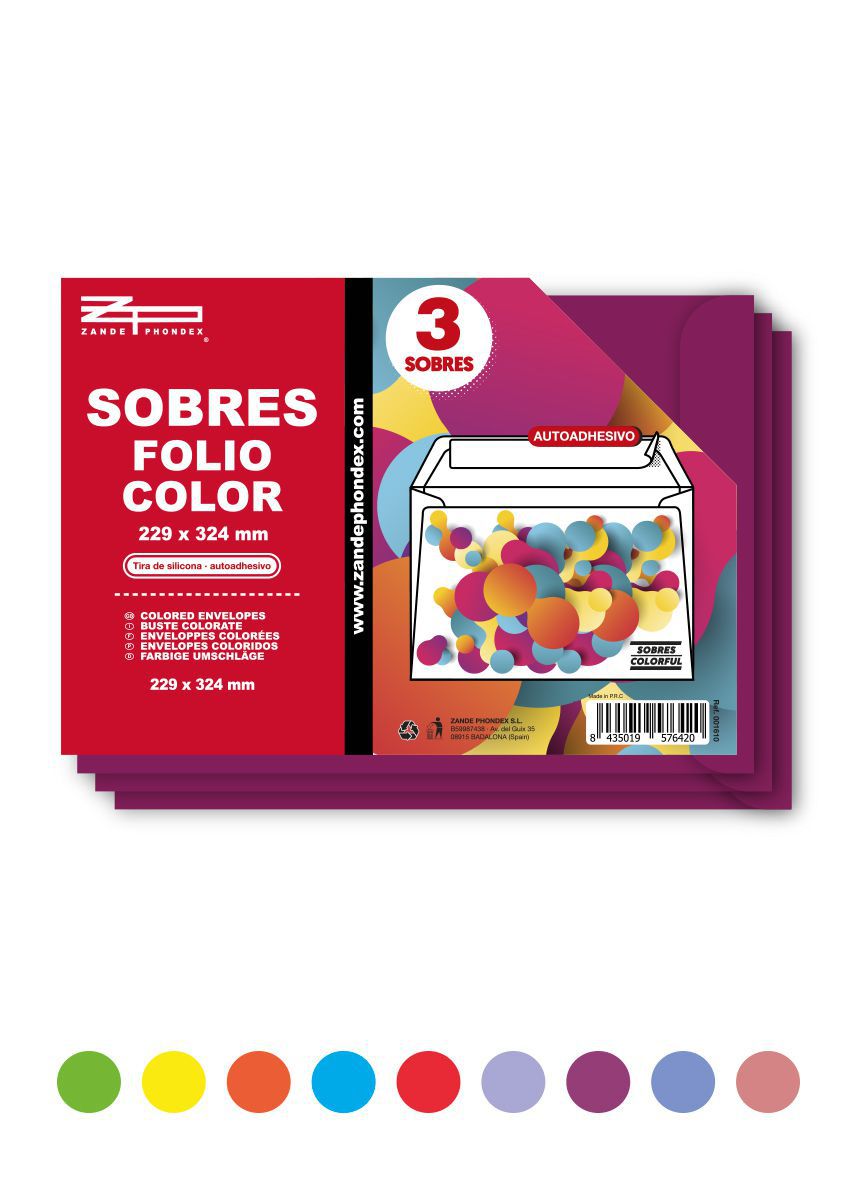 3 sobres 229x324 folio colores
Code: 001610
Unavailable
Few units
Exhausted
There is no stock for more packaging, you can order single units.
The product is sold out you can't order more.
---
---
---
Technical specifications:

[es] Sobres tamaño folio tamaño 229 x 324 mm. 5 unidades. Fácil de usar con cierre autoadhesivo. Sobres resistentes para todos los envíos. Ideal para tarjetas de regalo, notas de agradecimiento, bodas o fiestas de cumpleaños.

[en] Folio size envelopes size 229 x 324 mm. 5 units. Easy to use with self-adhesive closure. Sturdy envelopes for all shipments. Ideal for gift cards, thank you notes, weddings or birthday parties.

[fr] Enveloppes format Folio format 229 x 324 mm. 5 unités. Facile à utiliser avec fermeture auto-adhésive. Enveloppes robustes pour tous les envois. Idéal pour les cartes-cadeaux, les notes de remerciement, les mariages ou les anniversaires.

[pt] Envelopes tamanho folio tamanho 229 x 324 mm. 5 unidades. Fácil de usar com fecho autoadesivo. Envelopes resistentes para todas as remessas. Ideal para cartões de presente, bilhetes de agradecimento, casamentos ou festas de aniversário.

[it] Buste formato Folio formato 229 x 324 mm. 5 unità. Facile da usare con chiusura autoadesiva. Buste robuste per tutte le spedizioni. Ideale per carte regalo, biglietti di ringraziamento, matrimoni o feste di compleanno.

[de] Umschläge im Folio-Format im Format 229 x 324 mm. 5 Einheiten. Einfache Handhabung mit selbstklebendem Verschluss. Stabile Umschläge für alle Sendungen. Ideal für Geschenkkarten, Dankesschreiben, Hochzeiten oder Geburtstagsfeiern.