Set reglas flexible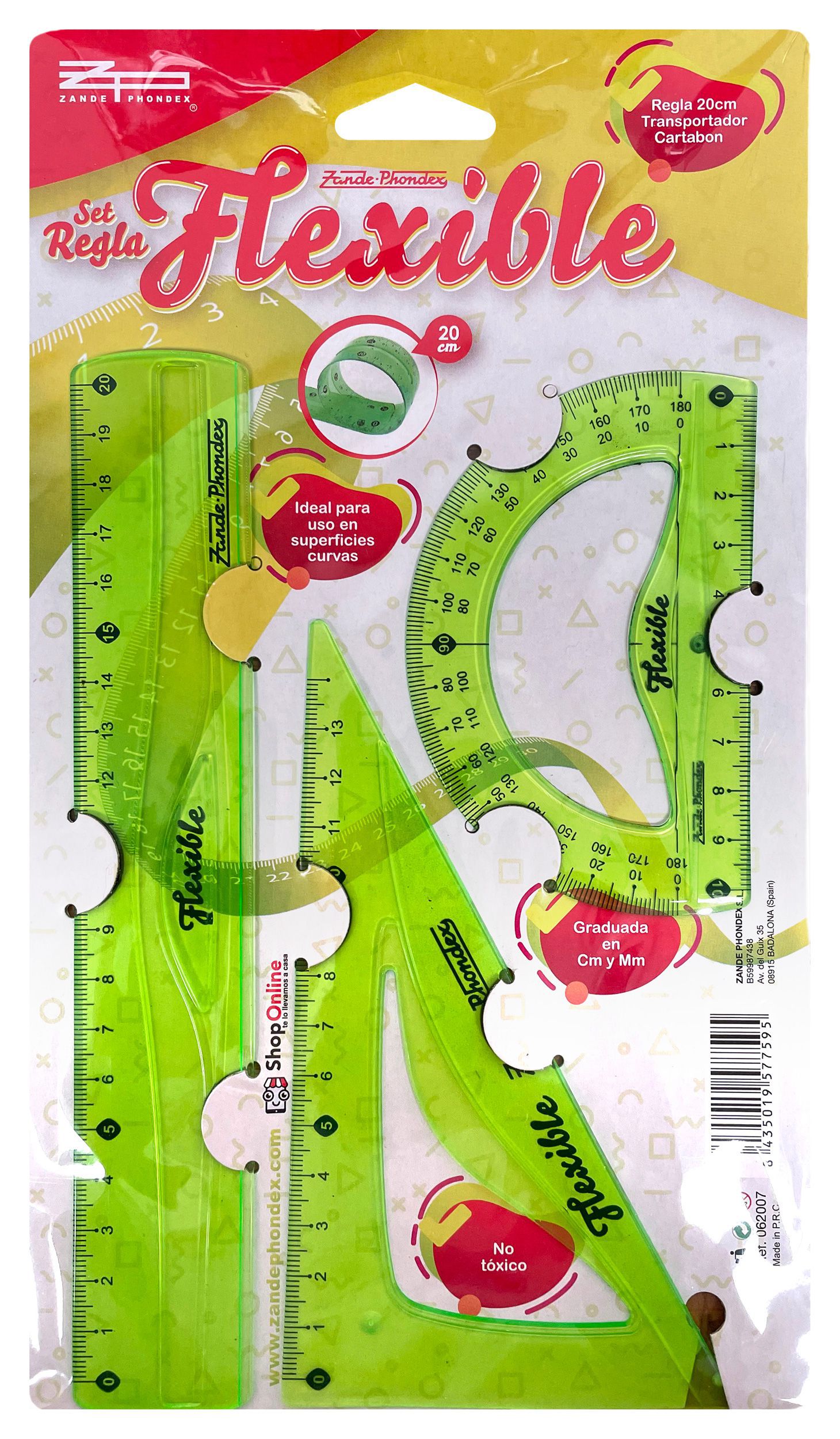 ---
Technical specifications:

[es] Set de geometría flexible transparente. Ideal para uso en superficies curvas. Set compuesto de regla de 20cm, transportador de ángulos 180º y cartabón ángulo de 60 °/13 cm. Graduada en Cm y Mm. No tóxico.
[en] Transparent flexible geometry set. Ideal for use on curved surfaces. Set consisting of a 20cm ruler, a 180º protractor and a 60 ° / 13 cm angle bevel. Graduated in Cm and Mm. Not toxic.
[fr] Ensemble de géométrie flexible transparent. Idéal pour une utilisation sur des surfaces courbes. Ensemble composé d'une règle de 20 cm, d'un rapporteur de 180 ° et d'un biseau d'angle de 60 ° / 13 cm. Diplômé en Cm et Mm. Pas toxique.
[pt] Conjunto de geometria flexível transparente. Ideal para uso em superfícies curvas. Conjunto composto por uma régua de 20cm, um transferidor de 180º e um bisel de ângulo 60 ° / 13cm. Graduado em Cm e Mm. Não é tóxico.
[it] Set di geometria flessibile trasparente. Ideale per l'utilizzo su superfici curve. Set composto da un righello da 20 cm, un goniometro da 180º e uno smusso con angolo di 60 ° / 13 cm. Laureato in Cm e Mm. Non tossico.
[de] Transparenter flexibler Geometriesatz. Ideal für den Einsatz auf gekrümmten Oberflächen. Set bestehend aus einem 20 cm Lineal, einem 180 ° Winkelmesser und einer 60 ° / 13 cm Winkelschräge. Abschluss in Cm und Mm. Nicht giftig.