Set reglas escolar pequeño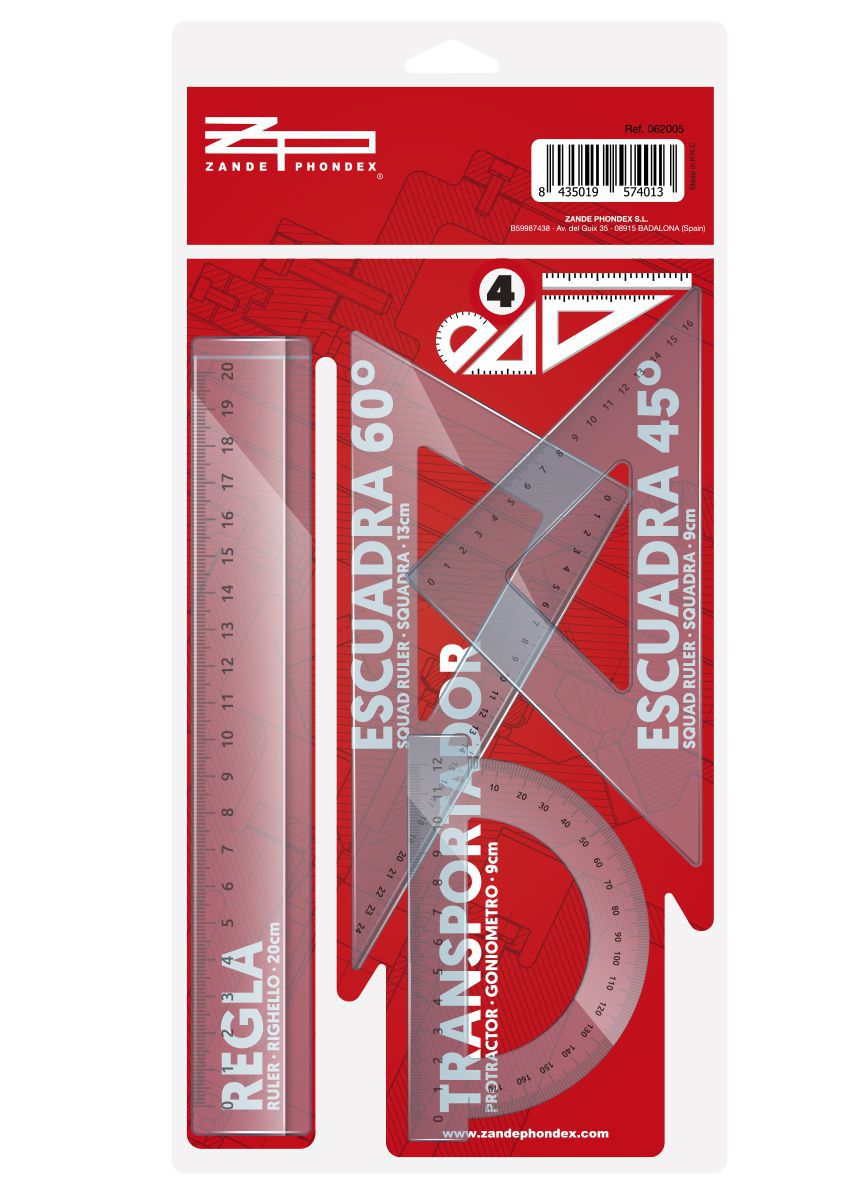 Set reglas escolar pequeño
Code: 062005
Unavailable
Few units
Exhausted
There is no stock for more packaging, you can order single units.
The product is sold out you can't order more.
---
---
---
Technical specifications:

[es] Set reglas escolar pequeño para dibujo técnico que contiene una regla, una escuadra, un cartabón y un transportador de ángulos. Reglas de plástico transparente. Graduaciones grabadas en color negro. Juego de accesorios para dibujo técnico presentado en una bolsa de plástico transparente.
[en] Small school ruler set for technical drawing that contains a ruler, a square, a bevel and a protractor. Clear plastic rulers. Black engraved graduations. Set of accessories for technical drawing presented in a transparent plastic bag.
[fr] Petite règle d'école pour dessin technique contenant une règle, un carré, un biseau et un rapporteur. Règles en plastique transparent. Graduations gravées noires. Ensemble d'accessoires pour dessin technique présenté dans un sachet plastique transparent.
[pt] Conjunto de pequena régua escolar para desenho técnico que contém régua, esquadro, bisel e transferidor. Réguas de plástico transparente. Graduações gravadas em preto. Conjunto de acessórios para desenho técnico apresentado em saco plástico transparente.
[it] Piccolo set di righelli scolastici per disegno tecnico che contiene un righello, un quadrato, uno smusso e un goniometro. Righelli in plastica trasparente. Graduazioni incise nere. Set di accessori per disegno tecnico presentati in un sacchetto di plastica trasparente.
[de] Kleines Schullineal für technische Zeichnungen, das ein Lineal, ein Quadrat, eine Abschrägung und einen Winkelmesser enthält. Klare Plastiklineale. Schwarz gravierte Graduierungen. Zubehörset für technische Zeichnung in transparenter Plastiktüte.